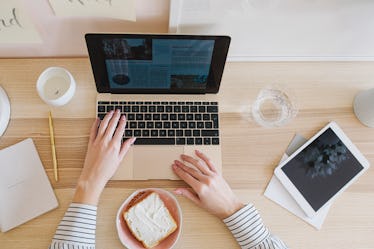 When You're Starving & Too Busy For A Real Meal, These 8 Snacks Will Fill You Up
Life would be so much easier if you had enough time to meal-prep twice a week, right? Just imagine the giant sigh of relief you'd take on one of those late mornings when everything feels frenzied, and you'd open the fridge to fresh, wholesome dishes you could easily heat up and eat up on demand. Now, snap back to reality, where you can't, realistically, always prepare for the worst-case scenario, and you have to make due with whatever's lying around in your kitchen cabinets. The good news is there are plenty of snacks that fill you up with nutritional value, not just junk to nurse a hunger pain, and they take little to no effort to compile and eat on-the-go. You just need to know what's good for you, and what's convenient for your schedule.
As someone who learned the art of winging it real fast during my first year of marriage, I can honestly say good-for-you food doesn't have to take hours to assemble. Sometimes, you don't even need to cook at all. The thing is, when you're balancing work life, social life, and maybe even a few college courses, time is of the essence, and you shouldn't have to feel ashamed or guilty for not having even an hour to spare to whip up something filling in between breakfast and dinner.
But, I get it. Despite the fact that you can't cook or sit down for a five-course meal, that doesn't negate the fact that you're still hungry AF, and you need some sustenance. The trick is not to give into the hangry feels, so try giving the following snacks a taste to curb your hunger until further notice.