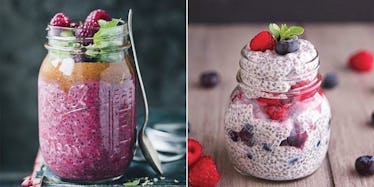 27 Healthy Mason Jar Breakfasts You Can Eat On The Go (Photos)
Green Kitchen Stories/The Iron You
Sticking to your New Year's diet can be a daunting task.
Especially when it comes to making healthy choices for the most important meal of the day: breakfast.
Let's be real, mornings can be pretty hectic. Oftentimes we sabotage our diet before the day even begins by committing carbocide with a sugary cereal bar or bagel as we jet out the door.
If you're looking for a way change your AM eating habits, you'll be glad to know all it takes to stay on track is a little meal planning and a few glass jars.
Remember when we showed you those make-ahead mason jar lunches?
Well, it turns out you can use those jars to make all sorts of healthy, delicious morning meals.
From smoothies, overnight oats and parfaits to jars overflowing with bacon and eggs, there are all sorts of balanced breakfasts you can prepare the night before and eat on the go.
So in order to help you eat healthier in the new year, we set out to find a bunch of badass mason jar breakfasts that taste so damn good, you won't even give those glazed doughnuts in the conference room a second glance.
Take a look at the pictures below to see some healthy make-ahead breakfasts you can eat on the go.
Mason Jar Bacon, Eggs And Hash Browns
Skinny Apple Bread in a Jar
Cherry Chia Jam Overnight Oats
Rainbow Fruit Salad Mason Jar
Roasted Strawberry Parfait
Mason Jar Mini Frittatas with Apsaragus and Pancetta
Blueberry Pancakes in a Jar
Almond Joy Granola
Vegan Pumpkin and Apple Pie Parfait
Mixed Berry Yogurt Parfait
Bacon and Egg Jar with Avocado, Tomato and Basil
Tropical Green Smoothie
Cocoa Banana Overnight Oats
Morning Glory Muffin and Fruit Jar
Fruit and Cereal Mason Jar
PB&J Protein Smoothie
Vanilla Berry Chia Pudding
Oatmeal Cookie Protein Shake
Chocolate Coconut Overnight Oats
Mason Jar Peach Parfait
Fruit, Egg and Quinoa Breakfast Parfait
Chia and Raspberry Breakfast Jar
Pomegranate Almond Overnight Oats
Blueberry French Toast in a Jar
Mason Jar Acai Bowl
Overnight Buckwheat Cashew Parfait
Mason Jar Breakfast Cassarole