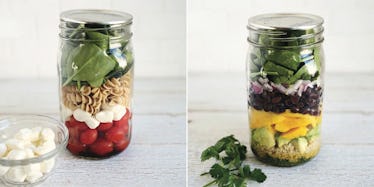 20 Healthy Mason Jar Lunches You Can Bring To Work In The New Year (Photos)
organize yourself skinny/green plate rule
Eating healthy can be pretty hard, especially when hunger strikes halfway through the work day and you're tempted by the plate of doughnuts in the conference room.
If you're trying to lose weight or improve your overall eating habits, planning out your meals and brown-bagging it to the office can really help you stay on track and save money.
Plus, you'll be glad to know you only need one thing to whip up a seriously tasty meal: a mason jar.
Lately, we've been seeing all kinds of healthy mason jar meals ranging from delectable burrito bowls and layered noodles to all sorts of salads and even lasagna.
To help you eat better in the new year, we set out to find a bunch of mouthwatering mason jar meals you can make ahead of time to eat on the go.
Seriously, these lunches are so easy and convenient, you'll be excited about eating healthfully.
Take a look at the pictures below to see some amazing mason jar lunches.
Burrito Bowl
Shrimp and Feta Cobb Salad
Asian Noodle Salad Jar
Deconstructed Sushi
Mason Jar Pasta
Greek Salad
Zucchini Pasta Salad with Avocado Spinach Dressing
Mango, Avocado and Black Bean Salad
Sriracha Shrimp Caesar Salad
Seven Layer Avocado Salad
Mason Jar Lasagna
Barley, Feta and Asparagus Salad
Pomegranate and Pear Salad
Healthy Taco Salad
Strawberry and Spinach Mason Jar Salad
Thai Chopped Chicken Salad
Instant Ramen Zoodles
Roasted Sweet Potato and Quinoa Salad
Fresh Mozzarella, Tomato, Pasta and Spinach Salad
Tropical Sriracha Chicken Salad