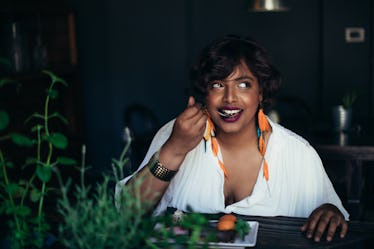 6 Delicious Vegan Foods That'll Fill You Up Before Your Next Workout
While there's a lot of encouragement out there to pack your pre-workout meals and snacks full of foods with lean proteins, like turkey slices or Greek yogurt, those animal-based products can definitely present a problem for anyone who's trying to stick to a vegan diet. If working out is a big part of your life, but you're also trying to stick to a plant-based regimen, it's pretty important to find vegan foods that fill you up and keep you feeling energized and strong so you can slay all the ab circuits and elliptical sessions your heart desires.
And, as it turns out, eating vegan snacks before a workout can be a really nutritious (and delicious) way to get some fuel in before you start to sweat it out. For those doubters in the house who prefer to question whether or not you're going to get enough nutrients in to really feel full and fueled to max capacity, perhaps you should know that there's speculation out there suggesting veggie-based athletes might be even stronger than their carnivore counterparts, according to a 2016 study published in the journal Nutrients.
Of course, whatever works best for you is where it's at, but know you can definitely get sweaty and strong vegan-style. If you're intrigued, here are a few ways to fill up the plant-based way before your next workout.