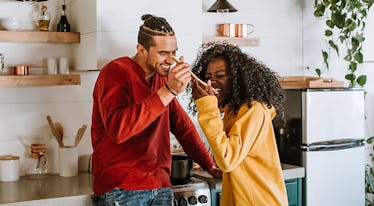 8 Simple Ways To Remind Your Partner You Love Them That Are Cute & Thoughtful
Loving someone wholeheartedly is wonderful, but in a relationship, it's important to make sure your partner knows how you feel about them, and that no matter how long you've been together, your love for them isn't going anywhere. While it may seem like a given that your partner knows you love them, that may not always be the case. Or maybe they do know, but a nice little reminder here and there doesn't hurt. There are countless simple ways to remind your partner you love them, without having to go all out and blow your last three paychecks to do it. Don't get me wrong: Going the extra mile to plan something extravagant for your honey is a really sweet thing to do, but that's not the only way to remind them you love them.
Sometimes even the smallest things can make your partner feel loved. Simply just saying "I love you" every day or calling them just to check in at lunch can be great reminders of your love for them. Maybe they were having a really crappy day and just hearing your voice or spending some time with you can make all the bad just melt away. A simple little reminder every once in a while can make a world of difference. Here are eight ways to make sure bae never has to question whether or not your love for them is as strong as it's always been.