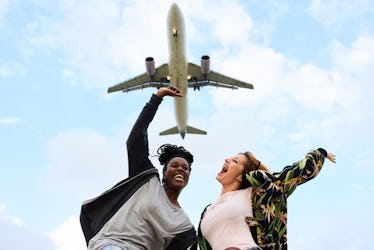 8 Telltale Signs You're Hooked On Traveling & Will Never Quit It
Once you've been bitten by the travel bug, you're forever hooked. The need to explore becomes everything you think about, and your life is built around where you're planning on wandering to next. If there's one word that best describes you, it's "wanderlust." For someone who daydreams about bucket list destinations on the regular, there are a few telltale signs you're hooked on traveling, and you'll be saying "same" to all of them.
You'd much rather be living out of your suitcase exploring the globe, rather than settling down in one place. All of the money you save up goes straight to your travel funds, and you wouldn't have it any other way. You live your life in experiences and getting to know new places rather than dishing out cash for material things. I get it; there are so many places to see, so you feel like you'd better start checking them off your list right now.
With your passport in hand, you can go pretty much anywhere your heart desires, and that's the greatest joy in the world to you. For anyone with this much wanderlust, you'll find yourself nodding your head when you see these eight telltale signs of someone who's ready to go on their next adventure.