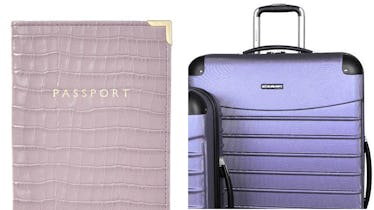 These Millennial Lilac Travel Accessories Will Take Your Wanderlust Global
Make way, mustard yellow and baby pink. There's a new summer color in town, and its name is millennial lilac. I know, right? What does it even mean? I was confused, too. But now I'm hooked, and here's why: Millennial lilac is that shade of purple that anyone and everyone can pull off. Trust me on this, even if you previously hated the color purple, you're going to love this shade. Millennial lilac is the color of the summer, and that's why this year, I want to take it everywhere. That makes these millennial lilac travel accessories a must have.
I get it; trends are hard to stay on top of. But just think of how long the millennial pink trend lasted. We're ready to move on — and lilac, she's our girl. Who else is down to get on the trend before anyone else? Between your workload and your personal life, you've been busy. Maybe it's time to spread your wings a little. You know you've been meaning to take a trip, so buying yourself some new millennial lilac accessories can only help, right? Wherever you destination may be, these millennial lilac accessories are ready to take your wanderlust global — and look trendy AF along the way.