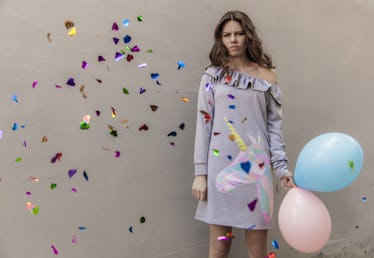 8 Signs You're Becoming A Birthdayzilla & Might Need To Chill Out
Your birthday is a special time when the spotlight is shining on you. There are some people in this world who take their birthdays very seriously, and quite honestly, I am one of them. If you're reading this, you can probably relate, too. The problem is, despite having a birthday tiara on your head and confetti in your hair, you've found yourself acting less like a princess and more like a birthdayzilla. If you're high-key obsessed with your birthday and are trying to convince yourself, "That can't possibly be me," you may be missing some telltale signs you're becoming a birthdayzilla.
What's a birthdayzilla, might you ask? Well, it's someone who's obsessed with their day of birth, and will stop at nothing to make sure everyone they know is as obsessed as they are. A birthdayzilla might even find herself going through a wide range of emotions in a short period of time, from stressed out to happy AF.
If you're still in a place of denial — believe me, I was, too — here are eight signs you may very well be a birthdayzilla, and might need to take a hot sec to chill out. Your birthday is a day to party, so focus on having a great time.