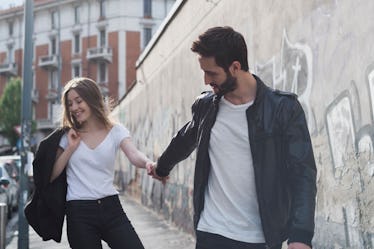 8 Sexy First Anniversary Date Ideas That Are So Hot, You'll Want To Run Home ASAP
At the start of many relationships, there's often a spark of chemistry. Perhaps you and your new boo are all over each other and can't seem to sit through dinner without wanting to rip each others' clothes off. OK, OK, so maybe that's a bit dramatic, but you get the point. Most relationships start out with a lot of heat. But as time goes on, it's perfectly natural for that fire to dim a little. In which case, having a few sexy first anniversary date ideas on hand can help you and your partner celebrate a landmark in your relationship, and while simultaneously reigniting that spark.
Of course, that isn't to say that you and your partner necessarily need any help getting a spark going. It can be fun to do something a little sexy for your first anniversary. You're young, and you deserve to have fun! First anniversaries are are an exciting opportunity to celebrate each other and your relationship. You've come a long way, so going on a hot date can be just the ticket. You can get all dressed up to go out, or keep it casual at home.
Either way, these date ideas will have you itching to turn off the lights, if you know what I mean.