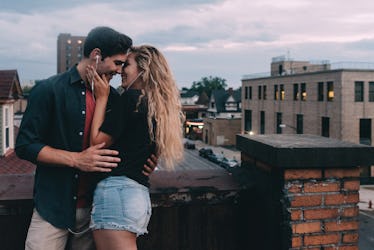 6 Women Reveal The First Date Ideas They'd *Actually* Be Psyched To Try
Before I'd officially entered the (occasionally nightmarish) world of casual dating, I think I expected every first date to play out like a '90s rom-com starring Tom Hanks. I lived in places like London! Paris! New York City! They were made for meet-cutes and public professions of love! The boys I met in dive bars and dating app chats surely had romantic plans up their sleeves and a folder full of the best first date ideas for girls stashed away when they asked for my number, didn't they?
If my life were a rom-com, the narrator would pop in about now and say, "They did not, in fact, have romantic plans in up their sleeves." And I know not all guys are the same, but the fact that my bar for "good date" is set at "he didn't lick my chin" really says something, gents.
Pretty much every first date I've been on has involved going to a small pub or bar, drinking gin and tonics in seedy lighting, and men looking at me pitifully when I inevitably spill that gin and tonic on one of us. Not wandering through empty museums and touching off-limit statues or strutting across iconic bridges hand-in-hand at sunset, as I'd once hoped and dreamed...
All this to say: If you're a guy or gal with a hot date coming up, and you're wondering what girls actually want to do on a first date, here are six ideas put forth by real women with big plans.
Plan a date around a girl's likes and interests (personalization is key).
Maybe this sounds narcissistic, but I love the idea of someone planning a first date based on clues they've picked up on from your text conversations or social media platforms. For example, I love coffee, so I'll always post photos of new coffee places I go to. If someone planned a similar date based on that, it would make me smile knowing they took the time to consider my interests. I would do the same for someone else if the planning were up to me.
—Sydnee, 26
If you're not sure what your date's into, drinks and a movie is always a classic.
My ideal first date is drinks and a movie, and probably a walk after. Because drinks make you loosey-goosey, and a movie breaks up the convo (so you're not forced to sit through an awkward dinner with a rando). The walk after is optional, depending on how well you vibe with the person / whether or not you have strong feelings about the movie to discuss.
—Ruby*, 24
(Speakeasies and dive bars work, too).
The perfect first date is probably a speakeasy first for cocktails, and then going to a dive bar that has fun games to see if he can *hang*.
—Chloe, 24
Or if your date's not into drinks, grab some tasty treats together!
I don't love drinking, so an ideal first date wouldn't revolve around that. I'm a huge foodie, so I prefer something along the lines of [outdoor food market] Smorgasburg or a big food venue to try things together.
—Elana, 24
An art show ups the romance factor.
We went into New York City, grabbed dinner and wine, and then went to the nighttime Chihuly Exhibition at the New York Botanical Garden. It was the perfect mix of romance, fun, and something special.
—Kaanan, 25
Oh, and don't worry about spending a ton of money to show your date a good time.
[We took] a stroll along the beach getting to know each other, then sat by the sea getting to know each other more — sharing cuddles & kisses — followed by another stroll hand-in-hand! It was so perfect and so romantic!
—Sarah, 28
If you're into ladies who brunch, why not give this a try?
My ideal first date would be brunch (my ideal every date is brunch, really). If you don't enjoy that person's company over egg dishes and mimosas, when will you?
—Elizabeth, 25
Just, do this. Exactly this.
My ideal first date starts with choosing a comfortable, cozy restaurant with dim lighting, so I look good (but enough lighting for me to tell that he actually looks good). We share some tapas plates and he tells me how charming I am — we agree I'm a keeper. Then we move to a darker, more intimate cocktail bar, like a speakeasy, and chat over candlelight. The connection is unreal and we are falling in love. Then he orders me a taxi home, because I'm too drunk and pretty to be on a subway now. He kisses me on the cheek before I get in the taxi and says I'll call you tomorrow. And then he actually does.
—Amber*, 24
Bonus tip: Don't shoot your date a text beforehand saying, "I'm already three drinks deep" (seriously, you'd be shocked how often we get this). It's not as cute as you think it is.
Now go break a first date leg!
*Names have been changed. Quotes have been edited and condensed for clarity.
Check out the entire Gen Why series and other videos on Facebook and the Bustle app across Apple TV, Roku, and Amazon Fire TV.
Check out the "Best of Elite Daily" stream in the Bustle App for more stories just like this!