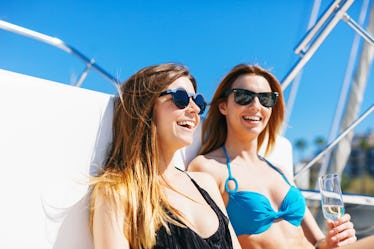 8 Reasons To Take A Cruise With Only Your Sister In Your 20s
Don't you wanna go cruisin'? I know I sure do, and the only essentials I'd need to have with me are my sister and a suitcase. A cruise is truly one of the best vacations to go on. It's basically a moving hotel that takes you to the most wonderful places while you get to eat, embrace the nightlife scene, and soak up some sunshine by the pool. Sign me up! It's a dream vacation, and the perfect partner for your travel adventures is your sister. Other than being your best friend, there are so many other reasons to take a cruise with your sister when you're in your 20s.
You've probably been on a ton of family vacations together over the years, so you're expert travel pals by now. Sure, a cruise would be fun with your friends or the rest of your family, but you know you only need your sister there to make it the trip of a lifetime.
I'm sure you'll agree with these eight reasons why your sister is the only person you need to cruise with. You were probably convinced the minute you remembered the endless buffets that cruises have. Now's the time to pick the perfect cruise for two sisters ready to take on the world. Sea you both on the high seas!