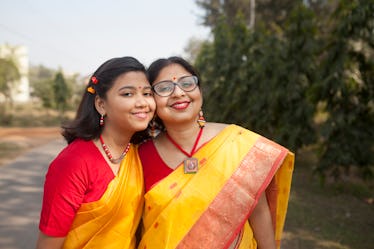 8 Pieces Of Advice From Moms About Loving Yourself That Will Bring You To Tears
I have a button from the '70s that reads: "Every mother is a working mother" that I wear every single day on my coat. While I don't know from personal experience, the world has shown me that being a mom is tough stuff. In order to raise a child and take on a life that's not your own, one must have an incredibly big heart. Moms are strong, wise, and honestly — they are usually right, even when it kills us to admit it. That's probably why hearing advice from moms about loving yourself is, well, literally everything.
I did not grow up with a rhetoric about loving myself, yet recently, I do feel as if my mom and I have both learned a lot about being yourself. I am grateful to have gotten past my angsty "I hate my mom!" phase. Of course, I'm thankful for growth, therapy, and time — all of which have aided me and allowed me to become more open with my family.
I was proud to ask my mom for her advice on self-love, and I think she was excited to share it. So grab some tissues, because here's my sweet mom, among others, on loving yourself.