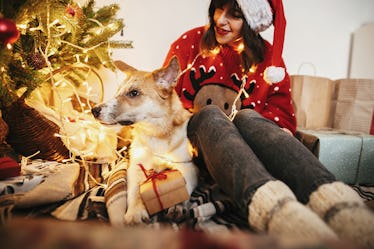 8 Pics Of Dogs & Their Christmas Trees Make The Cutest Greetings Ever
Now that your tree's been decorated, the next thing you need to do is snap a pic of your masterpiece. If you're a dog mom, you know who needs to help you show it off in style. An adorable picture of your furry friend posing in front of the Christmas tree will bring on all the likes when you decide to post on Instagram. You can also use any of the pictures you capture as your holiday card this year to send to family and friends. Thankfully, you have a jolly pup who's game to spread the holiday cheer, just like these pictures of dogs and Christmas trees.
There's nothing that says "Happy Pawlidays" more than a sweet pup striking a festive pose. If you have a fur baby at home, consider taking a Christmas tree pic of your own, and posting it on Instagram with just the right caption: "Happy Howlidays, from our family to yours."
If you need a little help coming up with the right pose for your pooch, these eight dogs are here to sleigh. I'm telling Santa right now, he doesn't even need to check his list twice, because all dogs are on the nice list and deserve some new toys and a fresh bone.