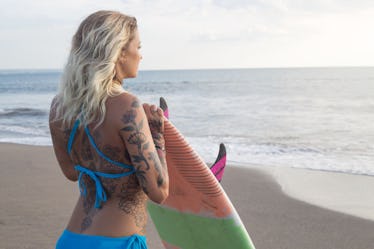 Beautifully Subtle Ocean Quotes For Tattoos That Every Beach Babe Can Agree On
There are so many reasons why the ocean holds such a special place in your heart. It provides you with a serene place to kick back, relax, and enjoy the sound of the waves crashing on the shore. All of your worries seem to fade away when you're basking in the sunshine. It's why you head to the shore every summer to visit it, and why the most romantic date will forever be taking a stroll on the sand. So, to really pay homage to the sea, you might want to consider some ocean quotes for tattoos.
A tattoo is a great way to showcase your personality and what you love, right on your body for everyone to see. A picture is worth a thousand words, but when you want to get the message of your love for the ocean across perfectly, a subtle quote is all you need. There's so much to say about the sea, but if you need help picking out the right words, consider any of these eight quotes about the ocean.
Just remember that you do have to wait at least three weeks after getting a tattoo before you can swim, according to AuthorityTattoo.com. However, consult your tattoo artist on how long they think you should wait before visiting the ocean or pool again, in addition to proper care tips of your new tat. Maybe instead, spend your summer seas-ing the day, and then in the fall, it's the perfect time to say goodbye to your beach vacays with an ocean tribute.