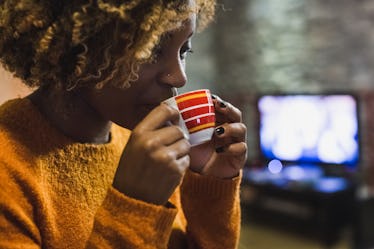 8 Hangover Remedies That'll Make Waking Up On New Year's Day A Little Less Crappy
Can you feel it yet? The pounding of your temples, the sickly sweet aroma of five champagne cocktails wafting out of your pores, the nausea, the sensitivity to daylight, the dense feeling of dread? Yes, it's the New Year's Day hangover, and it's back in full swing, baby. While this might not seem like the most promising way to welcome a brand new year of life, it's a frequent one nevertheless — which means, my friends, that even before you RSVP to that Rihanna-themed New Year's Eve bash, you need to have a stockpile of new year's hangover remedies that actually work, so life can feel a little more bearable when you wake up on Jan. 1.
Now, not to be a walking PSA, but please remember to be careful out there with your bev consumption on the last night of this dumpster fire of a year. While it might seem like a good idea to throw caution to the wind, remember that your liver is your friend, and it wants to continue being able to clean bad things out of your body. According to the latest edition of dietary guidelines from the Home of the Office of Health Promotion and Disease Prevention, "moderate alcohol consumption" is one drink a day for women, and two drinks a day for a man — just to give you a starting point.
It's likely that not too many people who are interested in partying on New Year's Eve are going to stick to that particular guideline, so consider a few other pointers before we cover hangover remedies: Keep track of how much you drink, eat snacks whenever possible, hydrate hydrate hydrate, hold onto your own cup always, and pace yourself. Also, you can always opt for seltzer if you don't feel like getting shwasty (and hungover).
But if you plan on doing it big on New Year's Eve, and you want to know how to avoid a hangover on Jan. 1, try some of these remedies to ease the pain.