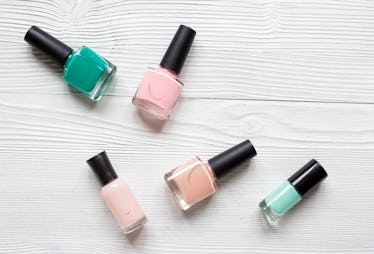 8 Nail Gift Sets To Have On Deck For Last-Minute Gifts This Year
'Tis the season of giving, which means now is the time to think of those that are special in your life, and get them something they'll love and cherish. When thinking of your best friends, you want to make sure you get something they absolutely want to use. A beauty gift set is always a great choice for your friends, but there's so many to choose from and you never really know what makeup your friends like. It can get kind of overwhelming, but you can never go wrong with some nail polish. That's why nail gift sets are the perfect present to get all of your girlfriends.
Everyone loves a good mani, so you know it's a gift your friend will use. The hardest part of deciding on a gift is over, and even better, if you happen to forget anyone on your list (not that you would ever!), it's great to stock up on a few extra of these so you can have the perfect gift on-hand and ready for your friends if needed. Most of these gift sets come "wrapped" for you. With the holiday themed packaging, just stick a bow on these gift boxes and they're good to go. We've done all the work for you, so you don't even have to truly lift a finger. All your girlfriends will be so ecstatic Christmas morning when they open their presents, because this year you've really nailed it.