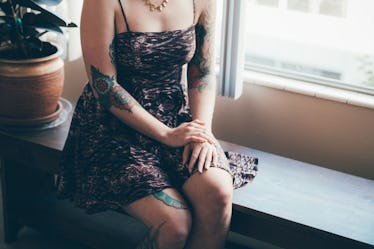 You've Probably Fallen For These 8 Myths About Cellulite Before, But Here's The Truth
Topping the list of all the BS things society makes women feel bad about but definitely shouldn't, is a term I'm sure you're all familiar with, and that's cellulite. Cellulite is a word loosely used to describe the fat on someone's (typically a woman's) body. However, Refinery29 recently uncovered the true history behind the term, showing there are a lot of myths about cellulite that need some debunking ASAP. In fact, you probably don't know as much about the subject as you think you do, including what cellulite actually is and where it comes from. Prepare to have your mind blown, babe, because this anatomy lesson is about to school you like you wouldn't believe.
It turns out, Refinery 29 reports, cellulite is actually a French term, and was coined by doctors Émile Littré and Charles-Philippe Robin in 1873 to sum up, in one word, inflamed or infected cells, primarily in the pelvic area. According to Professor Rossella Ghigi, who published her thesis on the subject in December of 2004, cellulite has zilch to do with fat, and everything to do with a medical diagnosis. The contemporary definition of cellulite that you and I are all too familiar with, Ghigi argued, is a result of the original one getting lost in translation after World War I, when women weren't quite as buttoned-up anymore.
Ghigi goes on in her thesis to point out that, in 1933, Votre Beauté magazine referred to cellulite as a combination of "water, residues, toxins, fat, which form a mixture against which one is badly armed." This was, in Ghigi's research, the start of cellulite's now-very-negative connotation. Fast-forward to the year 1968, and according to Refinery29, the term made headlines when Vogue introduced it as "the fat you could not lose before."
Thus was the start of cellulite becoming public enemy number one. But, contrary to popular belief, cellulite isn't necessarily a bad thing, and according to Dendy Engelman, M.D., a board-certified dermatologic surgeon at Manhattan Dermatology and Cosmetic Surgery, it's actually more common than you think. She told SELF that "93 percent of women have [cellulite]," adding that "even very thin people can have cellulite and it is considered normal from a medical standpoint to have some." Yes, you read that correctly: Cellulite is considered normal, and that's by a medical professional's standards.
If you're still having your doubts, though, I totally get it. Cellulite has taken on quite the bad rap over the years, and seeing as how the true definition of cellulite seems to have been significantly altered throughout the years, it's no wonder there's so much confusion about what it really is, and how it affects your body. To put your mind at ease, here are some of the most common myths about cellulite, debunked.