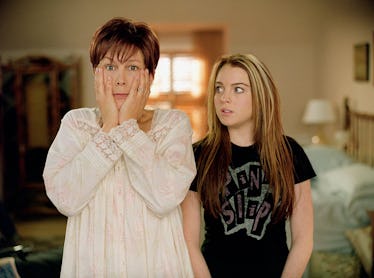 8 Movies To Watch On Mother's Day With Your Forever BFF
Walt Disney Productions
Sometimes, you just need to sit down on the couch with your mom and watch a movie. And what better day to do that than Mother's Day? Forget fancy flowers or extravagant brunches — the ultimate Mother's Day gift is laughing over a romantic comedy you've both seen 45 times but still love. There are plenty of great movies to watch on Mother's Day with your forever BFF, but these eight films are some of the best if you're looking for a laugh, a cry, or a little of both.
Just because you want to watch a movie with your mom this Mother's Day doesn't mean that you have to forgo the usual activities. After you've made her breakfast in bed, convinced your brother to split the cost of a flower bouquet, and picked out the perfect funny/witty/sweet card, there's still plenty of time to watch a movie with your mom. It's called Mother's Day, right, not Mother's Hour? No matter whether you're in the mood for a drama, a comedy, an oldie-but-a-goodie, or a horror-thriller (OK, maybe these aren't the best for mom's big day), these eight movies will definitely give you — and your mom — all the feels.
1. Freaky Friday
Freaky Friday is an obvious choice for this list. This body-swapping comedy is an essential lesson in learning to appreciate everything your mom does for you and really understanding what it's like to be her. Sometimes it's easy to forget that moms do literally everything for us (on top of their own sh*t), but you'll never appreciate her more than after watching Freaky Friday. Personally, I prefer the 2003 version — how can you not love Lindsay Lohan and Jamie Lee Curtis? — but if you're feeling old-school, you can also check out the 1976 original.
2. The Joy Luck Club
Nothing will give you mom feels like The Joy Luck Club, a story about four Chinese immigrant women and their Chinese-American daughters. The 1993 movie focuses on the experiences of these women as they attempt to raise children caught between two cultures, and no matter how different the daughters' lives become from their mothers, their bond remains strong. The Joy Luck Club is heavy, but watching with your mom will make those tears so, so worth it.
3. Room
Room is tender at its best and stressful at its worst. Brie Larson won the Best Actress Oscar for her performance as Joy, a woman who escapes captivity with her 5-year-old son Jack. Yes, Room is about the awful experience that Joy and Jack had in captivity, but it's also about their mother-son relationship. Everything that Joy does is for Jack — she would have resigned herself to a life of captivity if it weren't for him — and even once they're free, they take care of each other like no else one can. Room isn't exactly the happiest movie to watch on Mother's Day, but if you're in the mood for something a little more intense, it's a perfect watch.
4. Easy A
Let's get a little lighter, shall we? Emma Stone is amazing in Easy A, but you know who else is amazing? Patricia Clarkson, the actress who plays Olive's hilarious, oversharing mom, Rosemary. Olive and her mom share more than a few sweet moments throughout the movie, and it's ultimately Rosemary who convinces her that she should drop the whole "harlot" act —talk about parental love. Plus, there's no real sex in Easy A, so it's totally safe to watch with your parents.
5. The Parent Trap
The Parent Trap is Lindsay Lohan's best movie. Do not @ me (Mean Girls is a very close second). If you don't cry when Hallie and Nick beat Elizabeth and Annie back to London because "the Concord gets you there in half the time," then I firmly believe that you need to have your tear ducts checked. The Parent Trap is all about family, but particularly mothers: wanting one (Elizabeth) and not wanting another (Meredith). Watch it with your mom this Mother's Day and thank her for not trying to send you off to boarding school like Meredith attempted to do to Annie and Hallie.
6. Lion
Pretty much anything with Nicole Kidman in it is a safe bet to watch on Mother's Day, but Lion is an exceptionally great choice. The 2016 movie follows an Indian man, Saroo (Dev Patel), who sets out to find his birth family after being adopted at a young age. Kidman plays Saroo's adoptive mother, Sue Brierly, and she fully supports Saroo in his quest. At the end of the movie, Saroo finally meets his birth mother, and their reunion will leave you and your mom in tears for days.
7. Lady Bird
Last year's Oscar-nominated indie is the perfect way to say "I Love You" to your mom without saying anything at all. Lady Bird (Saoirse Ronan) is at a crossroads in her life: She's about to go to college, but she has yet to fully figure out her relationship with her mom (Laurie Metcalf). The two fight about pretty much everything, including where Lady Bird should go to college, but in the end, they're able to take baby steps towards reconciliation, and it's so sweet. I've seen Lady Bird multiple times now, and after each time, I have to resist the urge to call my mom (I usually end up doing it). Watch it with your mom, watch it alone, watch it with friends — just watch this movie.
8. Juno
How could I leave Juno off this list? 16-year-old Juno (Ellen Page) has a complicated relationship with her stepmom (the amazing Allison Janney), but when she gets pregnant, she turns to the women in her life for help. That includes Vanessa Loring (Jennifer Garner), the woman who is set to adopt Juno's baby. When chaos erupts, Juno learns what it takes to be a real mom — even if she's not ready to become one herself. Even without all the mom-ness, the performances, soundtrack, and script makes Juno a great watch. But with all the mom stuff? Watching Juno with your mom should be a Mother's Day tradition.
Start planning your movie marathon!