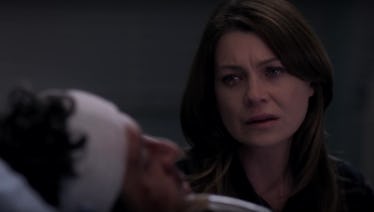 8 Most Emotionally Draining Scenes On 'Grey's Anatomy' That Broke Us Forever
It's not easy to be a doctor or a patient at Seattle Grace. The drama that goes down in Grey's Anatomy constantly has us on an emotional rollercoaster. Don't get too attached to any particular character's happiness, because you know plot lines are guaranteed to change. I mean, the world was not prepared for McDreamy to leave Meredith, but that's what makes the show special. It'll rip your heart out many times, especially in some of the most emotional Grey's Anatomy scenes. But, this show is so good we keep coming back for more. The show has been on for 14 seasons, so it definitely has us hooked in every way imaginable.
I'm warning you now. You thought these scenes were hard to get through in their respective episodes, but the true test is can you watch them all in a row? Grab a box of tissues — or maybe five — for these eight emotional Grey's Anatomy moments. You'll probably need to re-hydrate after all of the crying as well.
We don't know how Meredith has managed to make it through all of these moments. She's a much stronger person than me, and I'm not embarrassed to admit that while crying my eyeballs out. So, you've been warned, but also if you need someone to hug and dance it out with afterwards, just let me know. I'm right here.