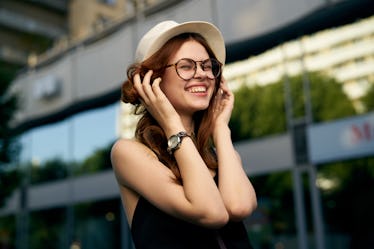 8 Little Things Genuinely Happy People Do On The Regular
Where would we be without happy people? You know — the type of people who always come into the office smiling, and without a doubt have something pleasant to say. We need a manual for the little things happy people do, so that we can experience even a fraction of that uplifting and positive attitude on a daily basis.
Honestly, how could you not envy that? Well, don't think happy people are part of a prophecy that solemnly chooses them to walk this earth with a smile. Happiness is always a choice, and happy people almost ritualistically make it so they can radiate and bask in contentment on the regular.
Genuinely happy people seemingly float through life on their positive vibes like gravity doesn't exist. Do they sell this stuff in a store or something? I'm afraid not. Like most habits, happiness takes not only a dedicated mindset, but a routine that serves as a catalyst toward it. By surrounding yourself with positivity in all aspects of your life, you will truly reap the rewards. But, the idea of maintaining happiness varies because we are all different, and the same things don't apply for each of us. Want to join the club? Happy people are likely to practice a few things in their everyday life so they can keep in good spirits.