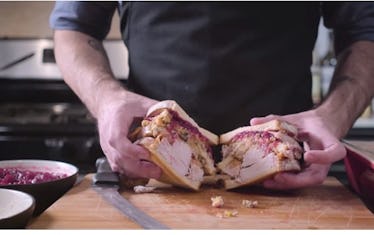 8 Leftover Thanksgiving Sandwiches That Take #FoodPorn To A New Level Of Extra
OK, it's time to focus our undivided attention on the upcoming holiday of food consumption. Thanksgiving is any foodie's favorite holiday, and if you do it right, the days following are fulfilling as well. Leftover Thanksgiving sandwiches are almost as good as the original meal, and we couldn't ask for anything more grand to put in our brown paper bags.
From the savory stuffing and mashed potatoes, to the cranberry sauce, your sandwich has all of the most potent ingredients to satisfy those tastebuds for days on end. Talk about lunch envy. You'll have to keep an extra eye on your sandwich in the employee fridge because any sign of Thanksgiving leftover goodness is placed on the "might get eaten" list.
Thanksgiving basically adds some extra bling to our turkey sandwiches. No matter what sort of arrangement you and your family put together each year, more than half of it can end up in your sandwiches. Who doesn't like options for their sandwich add-ons? There's no exact science to making the perfect Thanksgiving sandwich, but some people have definitely set the bar high on what's possible. So, if you're already thinking about packing your sandwich with holiday goodness this year, take some tips from these leftover entrepreneurs. And if you want to take a stab at making the infamous sandwich from Friends, here's a tutorial that defines #FoodPorn perfection.