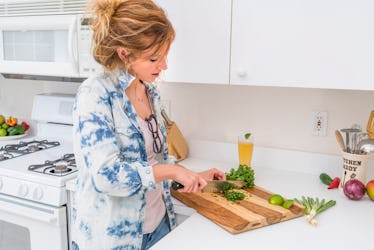 8 Kitchen Hacks That Will Impress Your Friends & Make Your Life Easier
Sometimes being a real, actual adult can be so daunting that doing the bare minimum is the most you can expect of yourself. And by bare-minimum, I mean you've probably had a peanut butter and jelly sandwich for dinner for the last four days in a row. But as it turns out, most fancy cooking hacks are actually way more simple than you think. They not only help you save time, but also help you make the most of what you have. Trust me, there are tons of kitchen hacks you never knew you were missing.
Most of our efforts to cook often end in us wasting food (either because we bought too much, or don't know how to preserve it properly), hurting ourselves (do mild blisters require a trip to the ER?), or just plain disappointing our taste buds. But learning a few quick kitchen hacks can help cut down your grocery bill, as well as reduce the amount of times you open your refrigerator to find that something has developed a pulse. It's a total win-win, not to mention the pure joy you can get from shocking a friend over your borderline professional culinary skills.
PB and J is great and all, but sometimes it's nice to switch things up. Here are eight things you may be doing wrong in the kitchen, along with solutions for how to pretend you actually know what you're doing.