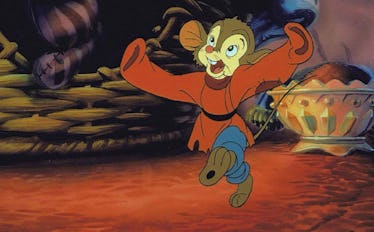 8 Hanukkah Movies On Netflix That Are Perfect For All 8 Nights
Universal Pictures
On Tuesday, Dec. 12, 2017, Jewish families around the globe will settle down to feast on the first night of Hanukkah, lighting candles and feeling only slightly superior that our shopping for the holidays deadline is over. While that one cousin is quietly trying to explain to her non-Jewish partner why the hashbrowns are served with applesauce, the rest of the family will need entertainment. So, here are eight Hanukkah and Jewish-themed movies on Netflix that even Bubbe will enjoy.
Before we dive in though, it is time for the yearly howling of what paltry offerings there are in this category. For an industry that's supposedly run by the Jewish people there is a painful and ugly dearth of films dedicated to the traditions and holidays of the Jewish people. In fact, google "Hanukkah Themed Movies" and most of what comes back is "Films About The Holocaust."
Adding to the frustrations this year is Netflix's loss of streaming rights of many of the (very few) films that do fall into this category. Eight Crazy Nights is not available for streaming, nor is The Hebrew Hammer. The Producers? Nope. Meet The Fockers? Nope. Heck, even Jewish movies that never actually admit they're Jewish (looking right at you Dirty Dancing, Casablanca and The Grand Budapest Hotel) aren't available.
With those painful limitations in mind, we still managed to come up with eight films to watch over the holiday nights. Enjoy!
An American Tail
Everyone sing with me now: "There are no cats in America! And the streets are paved with cheese!"
For those not acquainted with Sullivan Bluth's Jewish answer to all those Disney cartoons, here the synopsis:
A young mouse named Fievel Mousekewitz (Phillip Glasser) and his family emigrate from Russia to the United States by boat after their home is destroyed by cats. During the trip, a fierce storm throws Fievel from the ship, and he loses contact with his family. Luckily, he manages to sail to New York in a bottle. There, Irish mouse Bridget (Cathianne Blore), an Italian mouse named Tony (Pat Musick) and a kindly cat named Tiger (Dom DeLuise) help Fievel search for his loved ones.
The Boy in the Striped Pajamas
If you're going to watch Holocaust-themed movies this holiday season, go directly to The Boy In The Striped Pajamas, a kid's eye view of the atrocities. (Also stars David Thewlis of Harry Potter fame.)
Here's the synopsis:
During World War II, 8-year-old Bruno (Asa Butterfield) and his family leave Berlin to take up residence near the concentration camp where his father (David Thewlis) has just become commandant. Unhappy and lonely, he wanders out behind his house one day and finds Shmuel (Jack Scanlon), a Jewish boy of his age. Though the barbed-wire fence of the camp separates them, the boys begin a forbidden friendship, oblivious to the real nature of their surroundings.
Inglorious Basterds
For every Holocaust movie, there's a comedy. This one brings bonus Brad Pitt, The Bear Jew, and a great use of David Bowie's "Cat People."
Synopsis:
It is the first year of Germany's occupation of France. Allied officer Lt. Aldo Raine (Brad Pitt) assembles a team of Jewish soldiers to commit violent acts of retribution against the Nazis, including the taking of their scalps. He and his men join forces with Bridget von Hammersmark, a German actress and undercover agent, to bring down the leaders of the Third Reich. Their fates converge with theater owner Shosanna Dreyfus, who seeks to avenge the Nazis' execution of her family.
Remembrance
This one's a Holocaust movie that's a "Romeo and Juliet with a happy ending," when a woman who believes her lover was killed in a concentration camp discovers he's still alive when she sees him on TV. It's based on the true story of Jerzy Bielecki and Cyla Cybulska.
Here the synopsis:
Lovers become separated, each convinced the other died after escaping from a concentration camp.
Look Who's Back!
For every Holocaust movie, there's a comedy (again). This 2015 German comedy of what would happen if Hitler came back takes on an extra biting edge considering the current climate.
Synopsis:
When Adolf Hitler reawakens at the site of his former bunker 70 years later, he's mistaken for a brilliant comedian and becomes a media phenomenon.
To Life
This pretends to be a Holocaust film, but it's not. It's actually a film about embracing the one life you have. Totally uplifting.
Synopsis:
Aging cabaret singer Ruth and terminally ill Jonas form an intense bond that gives them a reason and purpose to live.
Keep Quiet
Worried about the rise in antisemitism in 2017? Here's a movie to help with that. This is a true story documentary about Csanad Szegedi, a Hungarian neo-Nazi leader, whose life is upended when he discovers his Jewish roots.
Synopsis:
Csanad Szegedi, the founder of an anti-Semitic group, finds out he has Jewish relatives. He spends three years learning to embrace his heritage while confronting his past.
East Jerusalem, West Jerusalem
And finally, we can't get through a holiday without talking about the elephant in the room, especially since Trump just upended everything by declaring Jerusalem the capital of Israel. So let's celebrate at least one man who's attempting to open a dialogue between the Israeli and Palestinian people, through song.
Synopsis:
David Broza, an Israeli singer-songwriter, sets out to open dialog between the Israelis and Palestinians through music.