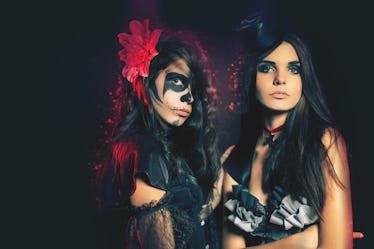 8 Creative Halloween Costumes You Can Put Together From Forever 21
Straying away from the pop-up costume stores this year? Wanting to put together your own costume is totally understandable. It's not always fun running into someone who pulled their costume out of the same bag you did when you're out and about for Halloween. Browsing the internet and coming up with some Halloween costume ideas from Forever 21 will be both unique and veered towards your taste and comfort.
What an untapped gem, right? Forever 21 has definitely been there when we needed a quick but chic outfit for an impromptu night out. Why can't it serve the same purpose for Halloween? Lucky for you, Forever 21's "Into the Night" collection has everything you'd need to assemble a fun costume.
The great thing about this is that there are dozens of different variations and combos you can toy with. Needless to say, there is a less likely chance that others will look like you when you're out to play this Halloween. You probably already frequent this store on the regular, so you might as well knock out two birds with one stone. So, if you're still up in the air about assembling a costume, these Forever 21 outfits may have you scrambling for your keys and headed to the mall immediately.