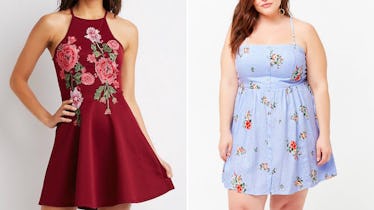 8 Floral Sundresses Under $20 You Need To Make Your Spring Instas Pop
Charlotte Russe/Forever 21
Floral dresses are making a comeback, and the styles and colors surfacing this year are already slaying the upcoming warmer months. Wearing anything floral is like carrying a sweet piece of Mother Nature with you wherever you go. And since Mother Nature is about too treat us so kind and will soon warm up to us, you'll want those floral dresses under $20 hanging in your closet already.
Floral sundresses pair well with almost every activity you've been waiting to do in the spring and summertime. Your wine vineyard pics don't know Instragram without the debut of that oh-so-cute floral sundress you want to purchase. Doing a twirl or two is mandatory, and only snagging one is basically impossible. With the way those colors and patterns are set up, you're going to want to get as many as possible without that shameful face as you look at your bank statements.
The warm months speak to the inner flower child in you, and floral printed-everything is just the beginning. There are so many ways to wear a floral sundress and the accessory options are seemingly endless. So, whether you're ready to pair yours with a fresh pair of sneaks, sandals, or pumps, these affordable floral dresses need to get in your closet, ASAP.