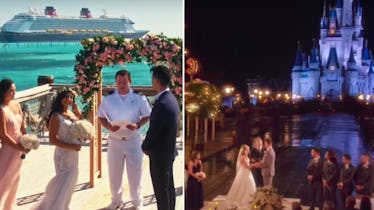 8 Dreamy Disney Wedding Destinations That Are (Literally) Straight Out Of A Fairy Tale
Your wedding day is meant to be one of the most magical days of your life. So, why not have your wedding day at one of the most magical places on the planet? That's right — I'm talking about Disney, and you can ring in your big day at one of the most amazing Disney wedding ceremony locations.
I don't know about you, but I've recently become obsessed with the Disney's Fairy Tale Weddings show on Freeform, which is all about these magical ceremonies. I'm a hopeless romantic, so I can't make it through an episode without sobbing uncontrollably over all of these dreamy weddings and happy couples saying, "I do." It ultimately had me going down a long rabbit hole — much like Alice — of all of the beautiful Disney Wedding options out there. From the parks to the resorts, and even the cruises, if you dream it, Disney can make it happen.
As a longtime Disney lover, I'm constantly getting asked if I would want to get married at the parks one day, and now, I definitely do. Though, I need to find my Prince Charming first. If you have a big day coming up in the future, maybe you want to tie the knot at any of these eight magical Disney locations. If not, you can just daydream along with me.