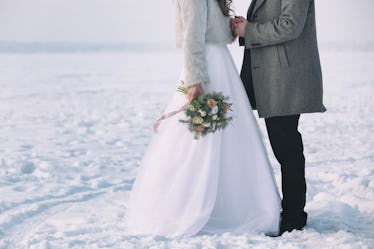 7 Christmas Wedding Dresses That Are So Enchanting, You'll Feel Like A Disney Princess
There's something extra enchanting about tying the knot near or around the holidays. Everyone's in a cheerful mood, and in addition to sleigh bells ringing, so are the bells at your wedding. This calls for a magical gown, of course, and Christmas wedding dresses conjure some of the most mystical and chic looks.
No matter what season, putting on your wedding dress is an inexplicable feeling for anyone. It's sort of like putting on a fabulous suit of armor, without the hard metal exterior. You become ready to open and face the next chapter of your life and walk confidently down the aisle to your knight.
Disney princesses always had the most amazing dresses, and our want for something like that never really stops. It's technically attainable, but ultimately, I think Disney's message wasn't necessarily that the princess was beautiful on the outside, but that she was genuinely glowing on the inside from extreme happiness. On your day, you are going to feel transcendent, partly because of the dress you chose, but mostly because you are about to become a wifey — a new and rewarding title to add to your identity. But if your heart is set on slaying as hard as the Disney princesses, these dresses give glitz and glam a completely new meaning.