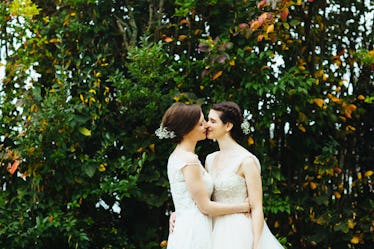 8 Creative Ways To Buck Tradition At Your Wedding Reception, Because It's Your Party
Everyone seems to have an opinion on how to plan a wedding. Does your mother want you to wear something you hate? Do you not want cake shoved in your face while wearing an $800 dress? Do you want your first song to be I Love College because it's your favorite song? It's your wedding, and while your family might be part of the planning process, there's no reason you shouldn't be able to add your own creative spark to it. If you're having a traditional ceremony, you can still find creative ways to buck tradition at your wedding reception.
The reception is where all the fun happens. After all, your friends didn't fly here from California just to watch you declare your love to your partner. Well, maybe they did, but they also wanted to celebrate and dance with you until the wee hours of the morning (and possibly enjoy the open bar — I never mind a party with an open bar). That's where the reception comes in. Weddings are about more than the bride and groom — they're about the guests as well. You have to make sure the reception is a party you'll enjoy, and a party you'd want your closest friends to attend.
Check out these eight ways to add a creative twist to your wedding reception.