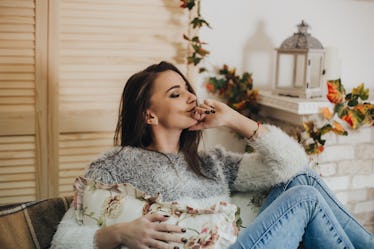 8 Things To Do At Home This Fall When You Really Want To Be Cozy & Lazy
Shutterstock
When the weather drops to chillier temps, it gives you the perfect excuse to stay at home and get cozy. Fall is all about oversized sweaters and sippin' warm drinks by the fireplace. Even though there are plenty of fun things to do outside — like go to a farm or find a scenic hiking trail — sometimes you just want to be lazy and stay at home. That's when you need a list of cozy fall things to do at home solo or with your friends.
This is a judgment-free zone, and I'm right there with you. I'd rather wear my slippers and rewatch Gilmore Girls for the millionth time than go out on a Friday night. You're totally taking advantage of the cozy feeling fall blesses us with, and I support it. Trade in your super cute boots for fuzzy socks, and crowded coffee shops for homemade Pumpkin Spice Lattes.
Your home can be just as eventful as any fall festival, so the next time someone suggests going out, you can always counter their offer with any of these eight fall-inspired things to do at home instead. Be sure to emphasize that comfy attire is the only requirement, and your friends will probably be down for whatever fall fun you have in store.