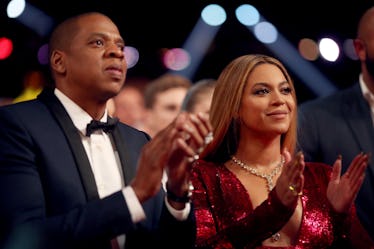 These 8 Celebrity Couples Are Legit Partners — In Life & The Boardroom
Christopher Polk/Getty Images Entertainment/Getty Images
Do you think working with a partner sounds fun? And would you like to be famous? If either sound appealing, you might get jealous of these celebrity couples who are also business partners IRL. Personally, I find it challenging to focus when I so much as have a crush on a coworker, so I can only imagine how difficult it would be to work or star alongside a spouse. Still, these couples manage to do it, and they've created some fantastic movies, music, and TV shows, so I'm grateful for their work.
Being famous can come with a lot of perks — red carpet events, a chance to work on huge projects, a lot of Twitter followers (this is what I'm most jealous of, to be honest). But it also comes with the chance to meet many other celebrities, which may be why so many end up dating, and also collaborating. I can only imagine a romance between a couple as powerful as Jay Z and Beyoncé would have to include working together — what else are they supposed to do? Their collective star power is too great for them to not create beautiful music while they stare into each other's eyes (this is exactly how I imagine it, at least).
Read on to find eight celebrity couples who are also business partners IRL.