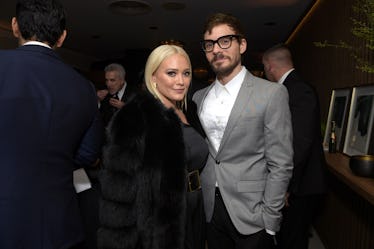 13 Celebrity Couples Who've Put A Ring On It In 2019 Thus Far
Emma McIntyre/Getty Images Entertainment/Getty Images
Well folks, we're already almost halfway through 2019. What is time, even?! As the weeks continue to fly by, it feels like more and more celebrity engagement news breaks on the reg. The celebrity engagements in 2019 thus far have been numerous, but I've gone ahead and rounded up the most noteworthy. After all, deciding to tie the knot is a big step, even for celebs. Perhaps even more so, considering that celebrity marriages are almost twice as likely to ultimately end in divorce, according to a Marriage Foundation study that followed 488 celebrity couples between 2000 and 2014.
Fortunately, on the other hand, there are several celebrity couples who've been together forever and set really awesome examples of what quality Hollywood relationships can look like. So, what actually makes for a solid marriage? Well, one of my all-time favorite celebrity baes, Jessica Biel, attributes the success of her marriage to Justin Timberlake to "communication, communication, communication," Biel told People back in 2018. "The ability to be really honest about how you're feeling and what your needs are. Just be able to communicate really honestly with your partner. That's worked for us so far. I would never want to speak on anyone else's relationship, but that's what we do."
Although there's no telling what the future holds, here are some of the most high-profile celebrity engagements of the year.