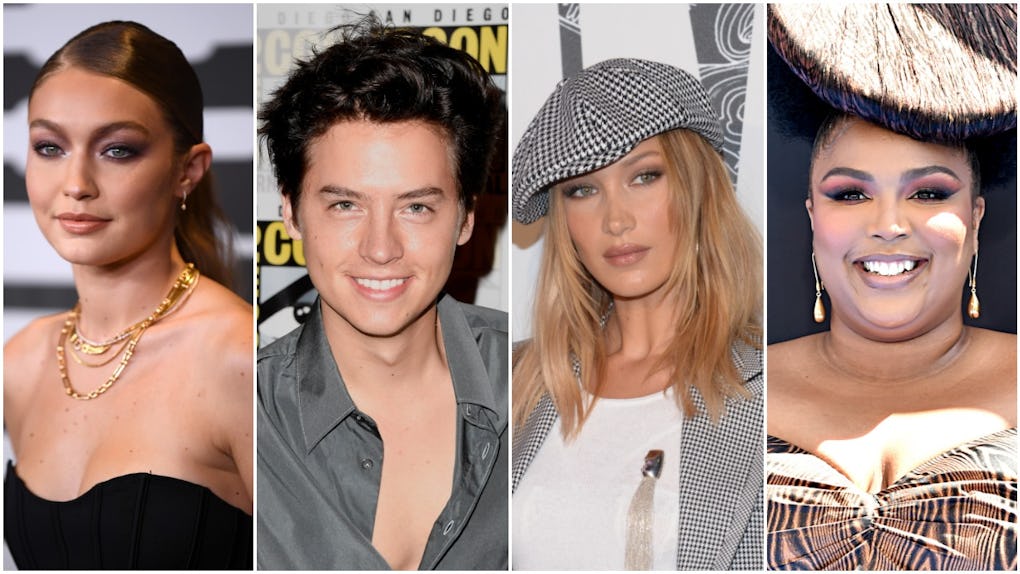 Dimitrios Kambouris/Getty Images; Frazer Harrison/Getty Images; Brad Barket/Getty Images; Aaron J. Thornton/Getty Images
8 Celeb Finsta Accounts That Show A Different Side Of Your Faves
Do you have more than one Instagram account? Y'know, one for work and the other for play. Well, if you do, one of those is your finsta, aka, "fake Instagram account." Honestly, there's a ton of pressure today to look like you have the perfect life, job, or Instagram feed. So, it makes total sense to have a finsta. Now, imagine being a celeb with everyone and their mom literally following you on social media. A finsta sounds like it'd be the best option to get some privacy or creative freedom. It would also be a great means to keep in touch with family and friends, which is probably why a bunch of celebs have finstas, too. So, I did some research (read: social media stalking) to find some truly eye-opening celeb finsta accounts. Take a look!
1. Gigi Hadid
There is so much more than modeling when it comes to Gigi Hadid. Apparently, the 24-year-old is a pro behind the lens. Her finsta account is called Gi'sposables (cute name) and it is dedicated to showcasing her photography. You should see some of her work. It features photos of her sister, Bella Hadid, and Kendall Jenner. Sorry, no snaps of Tyler Cameron — yet. Gigi's last post was Aug. 8, so I'd consider the account relatively active and up for new followers.
2. Bella Hadid
Bella Hadid, like her older sister, also has a finsta account. Though, it belongs to her blonde alter-ego, Rebekka Harajuku. This finsta is an account documenting Bella's romp through Japan in April 2018. If you look through the comments section, you'll find Bella had many fooled, with fans stating Rebekka was Hadid's doppelgänger. It's amusing. Other than that, Hadid shows off some killer style on the now-inactive account.
3. Sophie Turner
Sophie Turner's known finsta account was launched in April 2018 and active for just that month. The account had nothing to do with her acting career, hubby-to-be Joe Jonas, or her favorite pastime: vaping. Instead, her finsta was dedicated to eating and reviewing sausages. She hilariously doled out a rating of 2/10 to a super fancy Disneyland sausage. "The taste itself is delicious, however... can I even call this a sausage?" she wrote. Though, she thanked that happiest place on earth for an overall "fab" experience. Check it out at @sophiessausagereviews.
4. Bella Thorne
5. Justin Bieber
Justin Bieber's got a finsta account. You better Belieb it. His first post, made under the alter-ego Skylark Tylark, was a picture of himself hanging with finsta queen Thorne at Coachella, leading me to believe she may have had something to do with its creation. The account only has four photos and two of them feature Post Malone. Yes, really. The most recent photo was made on Jan. 24, 2019. It's a snap of the two musicians hugging with the caption, "i miss you posty answer your Facetime buddy." Hmm... maybe Skylark Tylark is a Post Malone stan? Guess we will find out when and if Skylark Tylark (aka, Bieber) posts again.
6. Cole Sprouse
Sprouse is the brilliant mind behind the finsta account camera_duels. With 5.7 million followers and verified status, it's not exactly a secret, but still very cool. The purpose behind the account is all in the name: a duel between cameras. The bio goes into more detail, saying, "This instagram is dedicated to the people out there who secretly take photos of me, and how I take photos of them first. May the fastest camera win." The account is full of stealthy (or stealth-less individuals, depending on how you look at it) hilariously trying to get that paparazzi photo of Sprouse. Honestly, I wouldn't be surprised if many fans attempt to take a picture of him with the hope of being immortalized on his impressive finsta. Check out his captivating captures with amusing captions here.
7. Ariana Grande
8. Lizzo
Lizzo is 100% that b*tch and so is her finsta account dedicated to her flute, Sasha Flute. The hilarious finsta actually recounts the instrument's point of view from Lizzo's performances, rehearsals, backstage musings, and hangout sessions with celebs. The finsta is active and has a mind of its own. Just take a look at Sasha wearing her own version of Lizzo's 2019 Met Gala look.
Sasha also has a cousin Blew Ivy, so I wouldn't be surprised if Lizzo's got another finsta in the works.