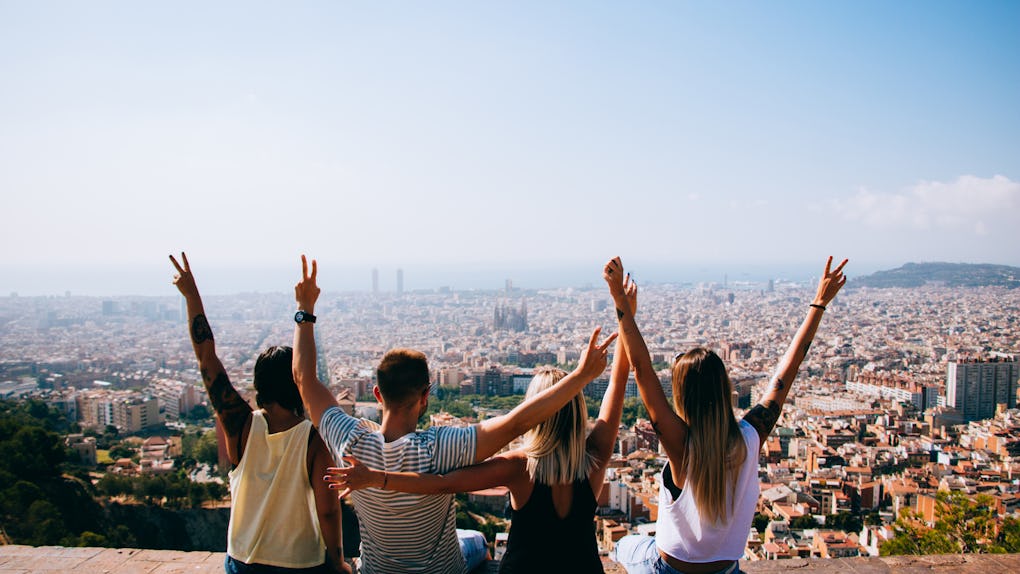 sosann/stocksy
8 Best Trips To Take If You're An Extrovert Who's Down For The Adventure
Extroverts are known to be the life of the party wherever they go. They're so friendly that they could hold a conversation with a wall, and they certainly don't shy away from new environments. Extroverts seem to thrive in high-energy environments, so travel is smooth sailing to them. They're not bothered by busy streets or crowded bars. They see every situation as a potential thrill and every person they're introduced to as a possible new bestie. There are some of the best trips to take if you're an extrovert who's down for the adventure, so it's time to get planning.
While introverts thrive in quiet spaces, extroverts may find themselves bored after hours without stimulation. They'll opt for a night out before they choose to stay in. They'll play road games on the bus before they ever choose to write in their journal. Extroverts live life out loud, and they love bringing others along for the ride. They're always searching for experiences that would prove to be a good story at the dinner table, so certain trips will be more enjoyable for extroverts. Forget a solo trip in the middle of nowhere — they're looking for fast-paced, lively trips that will leave them with memories to last a lifetime and stories to be told for ages.
1. Join An Organized Group Tour
Extroverts who are hesitant to travel alone may be interested in joining an organized group trip. Basically, you'll get to experience the fun parts of travel without having to do any of the planning. How sweet is that?
When you join an organized tour, you've already got a set of friends to explore, eat, drink, and dance with. You definitely won't get bored! In fact, you'll probably be totally bummed to leave your new friends once the trip is over. If you need a little inspo on where to begin, Geckos Adventures offers millennial-focused group tours that'll be for the books.
2. Go On A Cruise In Europe
U by Uniworld offers unforgettable cruise experiences throughout Europe that are just waiting for you to hop onboard. Cruises are perfect for social butterflies who want to visit new places and meet new people at the same time. There are plenty of of people on the ship, along with endless activities to keep you entertained. You'll make new friends at the rooftop lounge, silent disco, cooking classes, and on the yoga deck.
3. Backpack Through Central America
Extroverts will never run out of things to do or people to meet on a backpacking trip. Backpacking is the perfect way to visit different countries on a budget, and it's also a great way to stay social. You'll stay in hostels with hundreds of other travelers and you'll often share a room with them, too. You'll jump from country to country, which means you'll have the chance to meet new people everywhere you go. You'll have endless stories to share at parties once you return home.
4. Attend A Three-Day Music Festival
Music festivals are perfect for extroverts with high energy. You'll be surrounded by thousands of people who love the music vibes just as much as you do. There's no better opportunity to socialize and party with crowds while you shout the lyrics to your favorite songs. You're bound to leave a music festival with amazing memories and more friends than you came with.
5. Consider Couchsurfing
If you're down with this kind of a plan, you can find people to host you in their home on the Couchsurfing website. You'll get the opportunity to stay with a local in whatever place you're visiting. They'll show you hidden gems around the city that most tourists miss out on. After all, the best way to see a city is through a local's eyes. You'll leave your trip with new perspectives and maybe even a life-long friend.
6. Join Yacht Week In Croatia
Imagine sailing around Croatia's hottest Islands with hundreds of other travelers. Yacht Week is held every summer in Croatia. You'll spend seven days cruising along the Mediterranean sea with a boat full of passionate travelers and ocean lovers, which means you'll have endless opportunities to socialize. You'll get the chance to explore Croatia and dance the nights away. Get ready for all of those Insta-worthy shots of you and your new BFFs.
7. Take Language Classes
Learning a new language can always come in handy. It's a great way for extroverts to build a skill, while staying in constant communication with others. Once you've mastered your new language skills, you'll have the opportunity to speak to more people as you navigate the world.
8. Go To Adult Summer Camp
Yep! There are summer camps for adults. Summer camp is all about having fun and meeting new people, so it's right up an extrovert's alley. You'll get the chance to relive your childhood through outdoor games like tug-of-war, paintball, dodgeball, four square, and slip-n-slide. You could show up at camp alone, and leave with some pretty stellar friends from around the world.
Extroverts, unite! You'll leave these trips with more friends than you can even count.