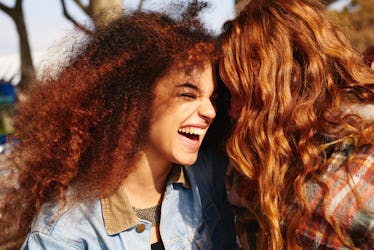 8 People Reveal Their Favorite Part About Being In Love & It'll Make You Melt
Well, folks, it's safe to say that cuffing season has finally arrived. Fall is seriously one of the most romantic times of the year. There are so many reasons to get cozy and warm with that someone special. It's also a time to reflect on the year that is coming to a close and the relationships that mean the most to you. When it comes to reflecting on your relationship, you may find that the best things about being in love are the pieces of your partnership that only you and your partner understand.
To explore what the best parts of being in love really are, I asked eight people about their partnerships and what they had to say was seriously so sweet. Although everyone said something unique to their specific relationship, a common theme of a support and vulnerability was present in the following answers.
These quotes show how beautiful and sustaining it can be to find someone that makes you feel special and cared for. Each person detailed a reason why their love makes them feel special, safe or supported, and honestly, my heart melted. If you're single and reading this, don't fret — I am, too. And honestly, what these people shared served as a great reminder of why dating and it's numerous challenges are worth braving.