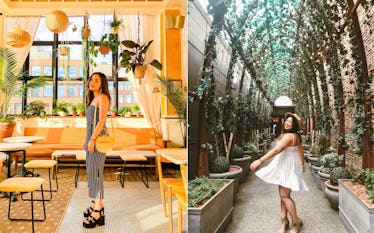 8 Best NYC Restaurants To Take Your Parents To That'll Prove You're #Adulting
Jen Osaki/Kristin Corpuz
I know from firsthand experience that impressing your parents may sometimes be difficult. When they come visit you in your "new home" — wherever you moved to after you moved out of their house — you want to show them the best your city has to offer. That means taking them to all the cool spots. If you moved to The Big Apple and your parents are planning on visiting sometime soon, these are the best NYC restaurants for parents that will ensure you not only enjoy a delicious meal, but you have a great time and will hopefully snap some pics along the way.
The five boroughs have so many food options to offer, ranging from the most casual to the most luxurious, and finding the perfect balance of comfort and style doesn't have to be hard. This list includes fun spots that'll not only make you feel right at home, but the food is also ready to blow your mind. Enjoy everything from pastries and breakfast sandwiches, to giant lobster rolls, to sophisticated seafood, to modern Italian, and truly everything in between.
The City That Never Sleeps offers some of the best food in the world, and if for no other reason than that, your parents will likely be so glad you moved there after you take them to one of these spots.