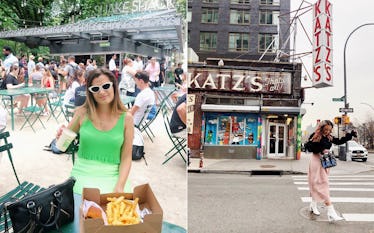 9 Fun Restaurants In NYC For Your Birthday That Are Anything But Cliché
Austen Tosone/Bella Gerard
Let's be honest: There's some pretty spectacular food in NYC, and there are always new places popping up. This is both a blessing and a curse when you have to figure out where to host your birthday plans. But as someone who has celebrated many birthdays in NYC, it's safe to say I've found a few favorite places of my own. From a cute dessert spot with rainbow cakes, to breakfast at Tiffany's, to even a casual burger joint, here are nine fun restaurants in NYC for your birthday that are definitely worth adding to your bucket list.
A beautiful part about celebrating another lap around the sun in one of the greatest cities in the world is that there are always options for you. You can eat dessert first then go to dinner, you can skip dinner altogether and just have cocktails and dessert, and you can also dig your hands into a giant bag of boiled seafood. Whatever your preferences may be and whatever you're in the mood for on your special day, you'll definitely be able to find it in The Big Apple.
If you're celebrating a birthday soon — or you just like planning your birthday festivities well in advance — check out these fun spots to celebrate your big day.