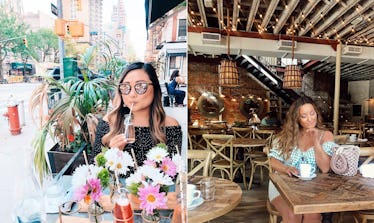 7 Really Cool NYC Restaurants To Take Your Friends Who Are Visiting
Irene Kim/Bella Gerard
Whenever you have friends visiting you in New York City, you want to make sure they get the most out of their trip. You might not spend the bulk of your time trying to hit all the touristy spots; you'd much rather take them to your go-to places and show them how the locals live. Of course, a huge part of NYC's culture is food, so you definitely need this list of cool restaurants in NYC to take friends who are visiting. Though this list doesn't cover every single trendy restaurant, it's a good place to start.
Scattered throughout Manhattan, these seven restaurants are guaranteed to serve you dreamily delicious food, seriously unique cocktails, and of course, all the Instagram photo opps your content creating heart can dream of. Your friends from out of town will be so impressed with how well you know the trendy places in town, they'll probably book their next trip back to the city before they even leave.
And if you don't have friends visiting anytime soon, these spots are worth seeing IRL, period. Bring your coworkers, SO, or your NYC crew to experience all of these amazing places in person. Your social media feed — and your tummy — will thank you.