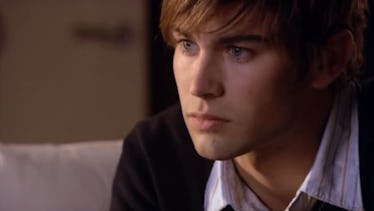 8 Best Nate Archibald Moments From 'Gossip Girl' That Will Forever Make Us Swoon
Oh, Nate Archibald, you were a wonderful man, but just never the right guy for any of the girls you dated on Gossip Girl. At one point, our main man Nate had both Blair and Serena fighting over him, but in the end, he ended up flying solo. I totally feel you, Nate. Despite being single in the finale, there was no denying that Nate Archibald was a total catch. He was charming, a great friend, and I mean, just look at how much of a hunk he was. We could stare into his dreamy eyes all day long... and then there are some of the best Nate Archibald moments from Gossip Girl that will always make us swoon.
There was nothing Nate could do about Blair and Chuck being undeniable soulmates, and Serena and Dan being the epitome of true love. He was never going to end up with either of these amazing ladies, even though we sure did get a lot of that love triangle action throughout the seasons. Even though he had his setbacks, Nate really was our Golden Boy who deserved love just as much as the other characters. He just couldn't find the right someone — though we did have high hopes for him after the series ended, and we're sure Nate found his true love. I mean, who wouldn't fall head over heels for this guy? Nate, you can seriously hit us up anytime.