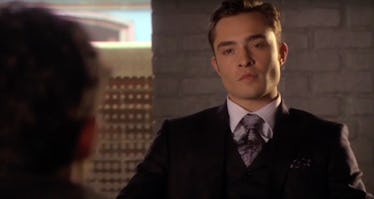 8 Hottest Chuck Bass Moments From 'Gossip Girl' That Made Us Want To Date Him
The CW is known for many things, and one of them is their extensive programming catering to teenagers. And cater they did. 90210, Gilmore Girls, and One Tree Hill are just a few shows to mention that scrape the surface of iconic programs The CW has churned out. And while they are all legendary in their own way, Gossip Girl is one that will never be forgotten. Most specifically, we will always be moved in more ways than one by some of the hottest Chuck Bass moments from Gossip Girl that have blessed our TV screens. And don't even try to deny me on that one — you know you love him (XOXO, GG).
From the elaborate storylines, the catty characters, and extravagant lives these teens lived, Gossip Girl caught all of our attention like nothing else could. Thanks to this show, I thought I knew the ins and outs of macarons, Central Park, and rooftop parties. It went from showing the lives of Upper East Siders playing royalty at their private schools, and followed them through their journey into adulthood as more powerful and slightly more cynical Upper East Siders.
And while all of the leads often made some super morally ambiguous choices, none compared to Chuck Bass. He will forever be the definition of a problematic fave, because even though he made some wildly immoral and downright cruel decisions, he will still be my number one. And why? Because he's Chuck Bass. But there are also other reasons, too. Here are some of his very best moments.