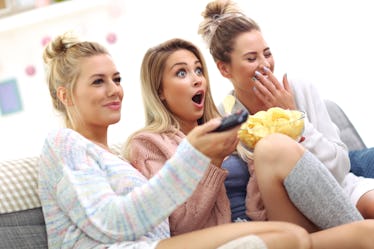 8 Badass Female Movie Characters We All High-Key Want To Be Friends With IRL
Women are incredible. There's no specific prototype on how to be one exactly. This makes the various ways to be a woman beautiful, unique, and enticing. That's why, when they're depicted as such dope human beings in movies, we can't stop watching them. They're the badass female movie characters we want to be friends with IRL, because oftentimes, they reflect a quality we see in ourselves or want to work on.
Even without powers, women are heroic superheroes, and we look boss as hell juggling all the things that come along with womanhood. We're a village, and from one woman to the next, there's a mutual understanding that we are in this together. Seeing our fellow ladies on the big screen being total badasses just makes us so proud. And we know they're playing a part, but hey, let our little hearts remain in awe over them.
It almost seems unreal seeing these ladies in action. Then again, women attempt and attain the unthinkable every single day. These lovely lady characters are the extra nudge we need to know that we can do absolutely anything. And sure, we have all kinds of friends, but being pals with any of these dope female characters would make us so incredibly happy.