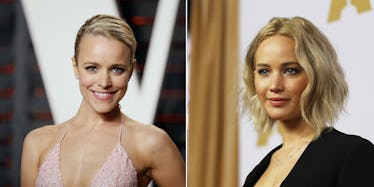 Here Are The 10 Most Badass Women Of The Year In Film
REUTERS / Danny Moloshok / Mario Anzuoni
This past year, the roles for women in film have really started to evolve for the better.
While Hollywood still has a lot of work to do in providing women the same opportunities as men on all fronts, I think it's safe to say there have been more badass female characters gracing our movie screens than ever before.
On Sunday night at 8 pm ET/PT, the 2016 MTV Movie Awards will honor a few of these women, as a lot of them are up for awards like Best Female Performance, Breakthrough Performance and Best Comedic Performance.
More than just a few women deserve to be honored, however, for their kickass performances. So, in preparation for the show, I thought I'd take a minute to give the 10 most badass women in film this year the recognition they deserve.
1. Jennifer Lawrence
I know, I know, I know. You're thinking, "OF COURSE, J Law made the list." I'm so predictable. But, it'd be wrong not to include her.
Not only has Jennifer Lawrence had an amazing year in acting, but she also opened up some major doors for what goes on behind-the-scenes in the entertainment business.
Her role as Joy Mangano in David O'Russell's "Joy" earned her an Academy Award nomination, and her essay on the gender pay gap in Lena Dunham's Lenny Letter forced Hollywood and the media to stop ignoring gender inequality in the workplace.
J Law the definition of "badass," so yeah, OF COURSE, she made the list.
2. Brie Larson
If you didn't see "Room," go watch it now because her complex, strong, gutsy portrayal of a woman forced to raise her son in captivity might be one of the best displays of acting in long time.
I can't wait to see what the coming year has in store for you, Brie.
3. Charlize Theron
Furiosa was, hands down, the most badass character in George Miller's uber successful "Mad Max: Fury Road," and watching her dominate in that movie could empower any woman. That's probably why she won the MTV Movie Award for "Best Female Performance"
Charlize is definitely paving the way for more strong heroines to star in gritty action films in the future.
4. Amy Schumer
Schumer went from having a viral Comedy Central sketch comedy show, to writing and starring in one of the most successful and funniest movies of the year, "Trainwreck."
She's won a bunch of awards, including an Emmy, and been nominated for even more. The best part is, she's done it all by being completely and unapologetically herself.
No studio can tell Amy Schumer what she should look like, dress like, act like or say, and that's so f*cking badass.
5. Daisy Ridley
Daisy Ridley didn't just appear in the new "Star Wars," either; she was LITERALLY the main character. And to top it off, she kicked ass and held her own, solidifying her as the winner of this year's MTV Movie Award for "Breakthrough Performance."
The 24-year-old actress had an undeniably badass year, but I have a feeling next year is only going to be even more amazing for her.
6. Margot Robbie
This year only made me even more excited for this summer when we'll see Robbie play Harley Quinn in the much-anticipated "Suicide Squad." Don't miss the exclusive sneak peek during Sunday's show. We all know she's going to kill it.
7. Melissa McCarthy
It was one of the funniest movies of the year and it was all because of MTV Comedic Genius award winner Melissa McCarthy. She's hysterical, and it's so great to have another badass, leading lady dominating the comedy genre like never before.
8. Rachel McAdams
If it wasn't clear then, it's definitely clear now: Rachel McAdams can literally do anything.
9. Emily Blunt
Blunt got into insanely good shape for the film, and her extremely believable performance was a huge reason the movie was so haunting. I can't wait to see what other badass characers she takes on in the future.
10. Kate Winslet
I mean, she was absolutely incredible in "Steve Jobs," earning herself her sixth Academy Award nomination. Yes, her SIXTH nomination. How badass is that?!