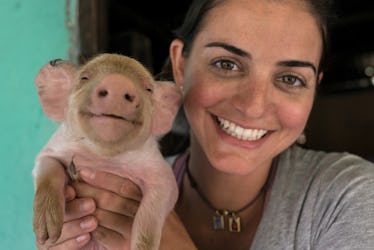 8 Animals Who Are Hamming It Up In Front Of The Camera That Will Make You LOL
A smile can be so contagious. You know how hard it is not to yawn after seeing someone else do it, so just imagine keeping a straight face when someone is smiling hard right at you. When someone is cheesin' real big, it's almost impossible not to cheese right back at them. Adding an adorable animal to the mix just makes it absolutely impossible not to grin from ear to ear. I don't know a single person who doesn't find joy from animals who look like they're smiling. They know how to strike a pose in front of the camera, and aren't at all shy about it.
In my personal opinion, a smiling animal is better than any chocolate cake, payday, and Gif of Ryan Gosling winking — which sounds crazy, but you have to see these pictures for yourself to fully understand. Here is just a glimpse of that joy with eight pictures of animals grinning big for all to see.
I dare you to try and make it through this list with just a straight face on — not even a smirk. If you're able to, you are definitely a much stronger person than me, but also why? Just let your inner joy shine through by smiling big. It really is the greatest thing in the whole wide world, so prepare yourself for what you're about to see. I'm warning you now, these sweet animals will definitely ensure you have an amazing day. I hope you're ready to see these animals that are absolutely loving the camera life in every way.