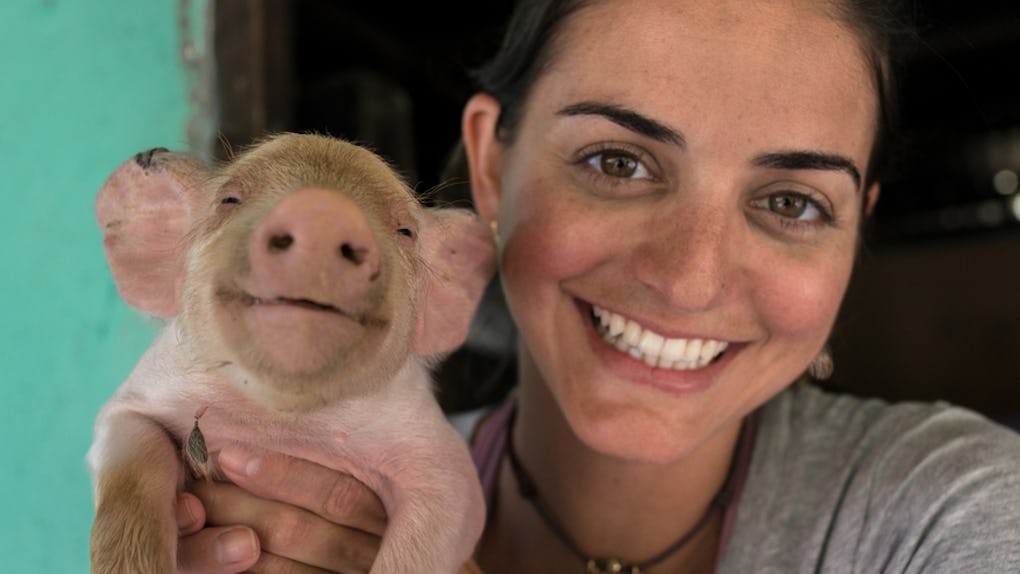 Gabriel Diaz/Stocksy
8 Animals Who Look Like They're Smiling Will Have You Fallin' In Love, Fur Real
A smile can be so contagious. You know how hard it is not to yawn after seeing someone else do it, so just imagine keeping a straight face when someone is smiling hard right at you. When someone is cheesin' real big, it's almost impossible not to cheese right back at them. Adding an adorable animal to the mix just makes it absolutely impossible not to grin from ear to ear. I don't know a single person who doesn't find joy from animals who look like they're smiling. They know how to strike a pose in front of the camera, and aren't at all shy about it.
In my personal opinion, a smiling animal is better than any chocolate cake, payday, and Gif of Ryan Gosling winking — which sounds crazy, but you have to see these pictures for yourself to fully understand. Here is just a glimpse of that joy with eight pictures of animals grinning big for all to see.
I dare you to try and make it through this list with just a straight face on — not even a smirk. If you're able to, you are definitely a much stronger person than me, but also why? Just let your inner joy shine through by smiling big. It really is the greatest thing in the whole wide world, so prepare yourself for what you're about to see. I'm warning you now, these sweet animals will definitely ensure you have an amazing day. I hope you're ready to see these animals that are absolutely loving the camera life in every way.
1. This Little Chimpanzee Has The Sweet Smile Down Pat
This little dude is totally posing for the camera, and seems like he doesn't mind having his picture snapped at all. Maybe he wants a copy for his Instagram, or maybe he wants to send a pic to bae. Whatever the reason may be, this sweet smile will make just about anyone melt.
2. Orange You Glad You Saw This Smiling Bird?
This bird is such a tweetheart with his little grin. It's not just his feathers that are warm and bright. With a beak, sometimes it's hard to smile big. So, birds have to utilize everything they have, and honestly, I think this bird wins for the best side smile I've ever seen. Just look at those eyes! The camera obviously loves this vibrant little dude.
3. This Cutie Is Just Horsing Around
Oh hay, there — didn't see you. I was too distracted by this horse's smile, and it's plain to see that he likes to have fun. I would give him all the carrots and sugar cubes his heart desires if he were my neigh-bor, and I could get used to seeing that happy face every day.
4. This Smile Truly Hits You In The Feels
This dolphin is honestly too adorable for words! It kind of always seems like dolphins are smiling. I'm guessing they love to have their picture taken and are just happy swimming around hanging with their besties. This sweet dolphin is truly making me feel all the things with that cheesin' pose.
5. Put This Face On The Insta-Ham
Just look how satisfied this pig seems with his carefree grin. He's just happy to say hello. I seriously cannot handle this pic, and my heart is melting pig time. If this pig had an Instagram, I would follow him in a heartbeat. Just imagine the selfies we would get to see.
6. This Baboon Is Lovin' The Camera
This picture is just perfect with this baboon soaking up the camera vibes. For real, does this baboon look like he low-key models part-time?! I really cannot get over that tilt of the head and one arm out. I'm honestly smiling right now while looking at this picture. This baboon honestly shows so many of us up, and I give him major props for that.
7. OMG, What Is Cuter Than This Baby Gorilla?!
This baby gorilla will make you swoon so hard. The cuteness overload is seriously unreal in this picture. This little guy is totally hamming it up with that subtle pout and his big eyes looking right into your soul. Do you want to hug me too, little dude? This photo will instantly make your day so much better.
8. This Is Some Sun's Out, Tongues Out Kind Of Fun
You know that emoji with the eyes closed and tongue out? You have to know the one I'm talking about after looking at this pup, because he is doing a spot on impression. Seriously, I'm impressed. He looks just like the emoji. Someone call up Saturday Night Live, because I have a new cast member for you.