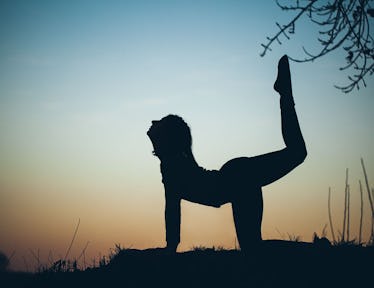 Try Doing These 7 Super Simple Yoga Poses When You Wake Up Feeling Groggy
Some people are naturally cheery and energetic AF first thing in the morning, and those people are why I have trust issues. Personally, I snooze my alarm about 13 times every single morning, and if it weren't for yoga, I probably would never emerge from my beautiful, blanket-clad sanctuary. If you, too, hate parting from your pillow in the a.m., including some yoga poses to wake you up in your morning routine might be exactly what you need to get your body moving come sunrise — well, along with that glorious cup of coffee, of course.
Now hear me out: If you're thinking that yoga is the last thing you want to do when you hear your alarm go off in the morning, I don't blame you. I used to cringe at the mere thought of getting onto my yoga mat first thing in the morning, too. But once I actually got into the habit of it, I realized how much natural energy you can get just from practicing a few poses before you officially start your day.
Rest assured, these seven yoga poses don't require much effort at all on your part. All you have to do is simply move and stretch your body in ways that feel good for you, and before you know it, you'll be ready to start your day.