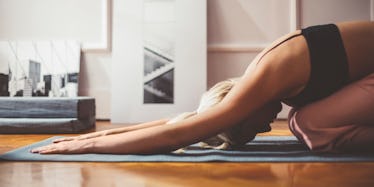 These 7 Yoga Poses Will Make You Feel Like A Human Again When You're Jet-Lagged AF
As fun as traveling to different time zones can be, I think we can all agree that jet lag is casually the worst thing ever. Between fighting to keep your eyes open at 5 p.m. and wondering why you're craving waffles and eggs at dinnertime, it's a struggle getting used to a new time zone, or getting re-acclimated to your OG zone when you're back home. If you're rolling out your yoga mat to soothe your muscles and joints after a long flight, it's an absolute must that you include a few yoga poses for jet lag to give your mind and body all the TLC you deserve.
First of all, though, why does jet lag make you feel so crappy? Well, according to Mayo Clinic, the reason why you feel like absolute sh*t when you get off that plane is because your body's internal clock is being totally thrown off, as it's technically still synced to the time zone that you live in, but once you arrive at your destination, that clock is desperately trying to get used to the new setting.
As a result, everything inside of you basically just goes haywire: You get drowsy, you might feel nauseous, and you can even experience gastrointestinal issues like constipation. It's not a comfortable time, fam — but that's where yoga comes in.
Adding a few rejuvenating asanas to your practice to ward off jet lag will help make your body's transition to your new time zone much more smooth and seamless. Try flowing through these seven yoga poses whenever you're on the move.