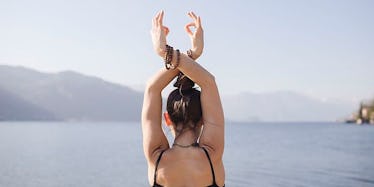 6 Yoga Poses You Can Do Literally Anywhere While You're Traveling For The Holidays
The holidays can be a truly magical time, but we all know they can also be stressful AF. It's easy to get overwhelmed by all the planning, the traveling, the traffic, and the family arrangements being thrown at you, but it's important to take a moment to breathe and reset so that you can return to all the good feels that the holiday season brings. A few yoga poses for travel will do wonders to relieve any mental anxiety or physical stiffness you might be struggling with during this hectic time.
Yoga is an incredible form of exercise that doesn't just strengthen and lengthen your entire body; it also allows you to become more mentally aware of your innermost feelings, which in turn provides you with the power to control your reactions to difficult situations.
Now, you might be thinking, how does this woman think I'm going to have time to roll out my yoga mat or go to a class amidst all of the holiday chaos? Not to worry, though, because these soothing and grounding yoga poses can be done absolutely anywhere, at any time, and you don't even need a mat to do them. Try them out when you feel cranky and frazzled after a long car ride or plane trip to help you remain calm, cool, and collected.