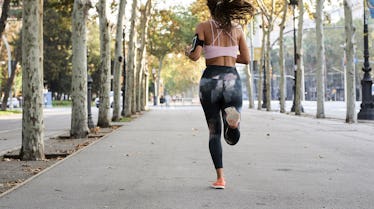 7 Workouts That Help You Run Faster If You Have A Sudden Need For Speed
If you feel the need for speed, but have been struggling to complete a mile in under 15 minutes, trust me, friend, I know the struggle. Before I even stepped foot on a treadmill, I always just assumed that momentum was something you were born with; you either have it or you don't. I was quickly proven wrong after a ton of practice, dedication, and, believe it or not, exercising in other areas of fitness, too. See, there are plenty of workouts that help you run faster, and you don't even need a gym membership to perform a handful of them.
In order to be fast, you have to train fast and with power, Blink Fitness program manager Phil Timmons tells me during an exclusive interview with Elite Daily. In other words, the workouts you're performing on a regular basis should be designed with the intention that every motion you go through will ultimately contribute to your speed in some way. "You want to train the [nerves and muscles] to fire efficiently as well," he explains.
Even if you aren't a competitive runner, gaining speed might be something fun to strive toward on your fitness journey. To find out how novice and advanced runners alike can enhance their speed both on and off the treadmill, I reached out to a few experts in the space. Here are their most highly recommended workouts to help you run faster, starting now.