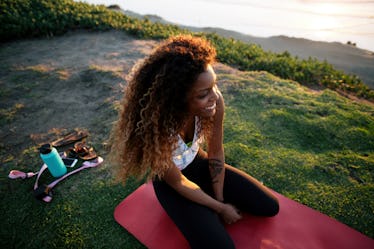 Fitness Experts Reveal 7 Low-Key Workouts That'll Enhance Your Downtime On Lazy Days
Some days are just not meant for a hardcore, heart-pumping workout. Whether you're feeling tired, or simply want to go at a slower pace for the day, it's good to keep in mind that exercise doesn't always have to equal high levels of intensity. In fact, there are plenty of workouts for lazy days that'll actually make your downtime and your connection to your body even deeper than if you were to simply push yourself through a cycling class, despite your body's craving for a slower pace.
After all, while some days are totally just meant for staying put and relaxing, there are also the times when, despite not wanting to go hard, you still want to move a little bit, just to get yourself off the couch for at least a little while.
"There are days for everyone, even trainers, when you don't want to work out, even though something in your head says you need to move," James Shapiro, an independent trainer in New York City and owner of Primal Power Fitness, tells Elite Daily.
Your fitness and energy levels are important to regulate and keep consistent, Shaprio explains, but keep in mind that you can definitely still reach your goals through a low-key, yet progressive path forward.
"Even if you find yourself in that lazy mood," he says, "there are definitely great things you can do to feel refreshed and maintain a daily movement habit."