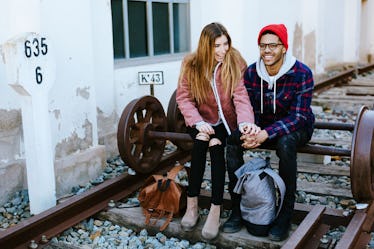 7 Women Who Are Friends With Their Exes Explain Why, & It Makes Total Sense
There will probably always be a difference of opinion between those who say being friends with an ex is possible, and those for whom that concept seems impossible. Some people talk about befriending exes like it's the most natural way to transition from a romantic to a platonic relationship, while others insist that friendship can never work out in the long run. As someone who hasn't been able to stay friends with an ex without ample drama ensuing, I struggle to understand how some people are able to pull this off. I'm sorry, but the one and only time I attempted to keep in contact with an ex, it took what felt like forever to get over the fact that our relationship wasn't meant to be. In hindsight, I really regretted not having the strength to cut the cord and move on.
I'm always fascinated when my friends talk about how great it is to have an ex in their life as a platonic friend. From their perspective, just because a romantic relationship didn't work out, doesn't mean you have to lose that person as a friend. In theory, it does sound kind of nice if you can make it work. But in practice, is it even possible? From the female perspective, here are some people's reasons for staying friends with an ex, thanks to the lovely folks on Reddit.