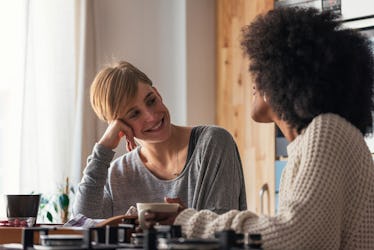 6 People Reveal Whether Or Not You Can Really Be Friends With An Ex & Wow, I'm Confused
The eternal relationship conundrum: to befriend or not to befriend an ex. The amount of debates I've gotten into over this question really is unbelievable, and naturally, there is no "right" answer. In a prefect world where everyone has the tools and emotional maturity to process their feelings, the idea of cutting someone you used to love out of your life just because a romantic relationship didn't work out might seem totally outlandish. But at this point, it seems like so many of us are total nay-sayers when asked — can you really be friends with an ex?
And while I frequently find myself mentally flip-flopping on my opinion, in the end I think it really just depends on the people involved and the catalyst for the separation. Remaining friends with an ex when the decision to separate was mutual is a completely different ball game than if one of you cheated, which is also different from remaining friends with an ex you dated for three months as opposed to six years. To get a bit more input on the subject, I took to reddit to hear why some people choose to remain friends (or not) with an ex.