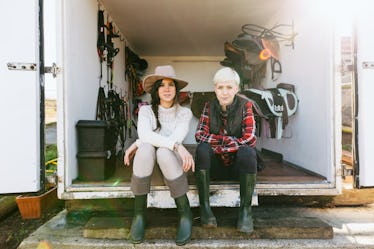 7 Wise Pieces Of Advice About Marriage, From Older Sisters That Love You Unconditionally
When you were growing up, your big sister may have never let you borrow her clothes or always hogged the house phone. And yet, through the years, you've managed to become something even closer than friends — almost like sisters. If you're newly married or if you're thinking about walking down the aisle someday soon, you may be in the market for some wise pieces of advice about marriage. And when it comes to advice on love, who better to ask than your big sister, the person who has been through it all and still loves you the most.
Of course, family means something different to everyone. And if you're closer to your friends or community members than the people you're literally related to — all that matters is that you feel loved and supported in every aspect of your life. If you don't have a big sis or aren't super close with your actual siblings, hearing from *other* people's big sisters can be totally helpful, especially when it comes to hearing some sage advice about life after tying the knot.
I asked seven big sisters for their wisest advice about marriage, and what they said is beautiful, resonate, and totally real.